(Lawrence Peter Berra …."Yogi")
Growing up in Brooklyn, NY I had had ample opportunity to sit in the bleachers in the old Yankee Stadium or watch the "Bronx Bombers" on WPIX.  If I could not watch the team in person or watch them on television, I could listen to my Sony transistor radio and learn of the exploits of my heroes.   The names of the players are embedded in my memory; Mantle, Ford, Skowron, Richardson, Kubek and of course Berra.  The Yankee catcher, sometimes outfielder was a sight to behold.  His awkward swing that paid no attention to the strike zone or his bowl legged stride did not detract from his baseball grace.  Be it jumping into Don Larsen's arms following the 1956 World Series perfect game or turning his back on Bill Mazeroski's game winning homerun to win the 1960 World Series, Berra always stood out as a leader among his teammates.  All of the wonderful stories  and career memories surrounding Berra are again brought to life in Jon Pessah's new biography, YOGI: A LIFE BEHIND THE MASK which allows me to relive many important memories from my childhood.
Pessah's prodigious research including interviews, culling newspapers, and other materials have produced a masterful biography as he places Berra's story in the context of race relations, socio-economic issues, ethnic conflict, and other important aspects of American history during his lifetime.  A good example of the scope of Pessah's effort is his discussion of the impact of World War II on American society, prejudice against Italian immigrants, and the obstinacy of baseball owners in integrating their sport.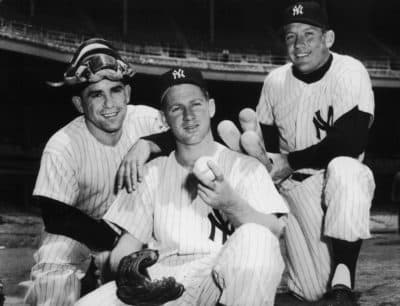 (Yogi Berra, Whitey Ford, Mickey Mantle)
Pessah's points out a number of interesting aspects of Berra's life.  I was completely unaware that as a member of the US Navy during World War II, Berra volunteered for service on "Rocket Boats" which were designed to cross the English Channel on D Day and soften German targets for allied bombers.  Berra witnessed a great deal of carnage and death during the war which he never really went public with.  Another important aspect of Berra's life and career was the abuse he suffered because of his facial features and stature.  Constantly the victim of crude and ugly remarks growing up he also had to deal with them when he stepped on to the baseball diamond.  Berra would become philosophical about the abuse and he was able to cope and put it behind him through a series of rationalizations.
Placing Berra's career in the context of post war events is a key for Pessah.  Whether discussing the role of baseball during World War II, the GI bill of 1947, postwar American growth as Americans experienced discretionary spending to visit ball parks, the arrival of Jackie Robinson and Larry Doby to integrate both major leagues, racial unrest in the 1950s and 60s, all reflect the author's strong command of history and provides insights into Berra's views and career.
(Yogi Berra Day at Yankee Stadium in 1959)
I would imagine that most people are aware of the many "Yogisms" that exist that are still referred to on a daily basis.  Yogis' commentary endeared him to the American people as it seemed he "can do everything so wrong but have them all turn out so right."  Comments like "the future ain't what it used to be," "when you come to a fork in the road take it," "ninety percent of baseball is mental; the other half is physical, "or when a reporter asked him if the comments he had to endure about his looks he responded, "I haven't seen anyone who hits with their face," are still amusing today.  Many have painted Berra as inarticulate and not highly intelligent.  Nothing could be further from the truth as Berra was a shrewd businessman who built Yoo Hoo soft drinks into a national brand, partnered with Phil Rizzuto buying a bowling alley and selling it for a $1 million profit, acting in a few movies, and earning the highest salary for a catcher in baseball history.
Pessah does a marvelous job presenting the watersheds in Berra's life and career.  The role of Dr. Bobby Brown, an infielder with the Yankees before he turned to medicine played an important role in taking care of Berra his first few years introducing him to life in the city, smoothed his rough edges, and preached patience.  Berra's marriage to Carmen Short provided him a family life and a partner who helped make important decisions.  Lastly, the work Hall of Fame catcher Bill Dickey who worked with Berra and turned his raw skills into the best defensive catcher in baseball.
(Yogi and Carmen Berra)
The first two thirds of the book covers Berra's career with the Yankees which includes the standard statistics that most baseball books offer, Berra's relationship with his teammates especially Joe DiMaggio, and his sidekicks Mickey Mantle, and Whitey Ford, along with the difficulties of transitioning to managing the Yankees and his firing.  What sets Pessah's biography apart is that he delves into Berra's post playing career and later life after baseball in great detail offering numerous insights into his personality and what made him so successful.
What is clear from Pessah's biography is the importance of family and the role of his wife Carmen.  If you want insight into the type of person Berra was off the baseball field all you need to explore is how he dealt with his son Dale's cocaine habit which began when he played for the Pittsburgh Pirates..  His addiction became public knowledge during a federal investigation.  The relationship between father and son is strong further highlighted by Dale's reaction when his father was fired by George Steinbrenner in 1985 leading to Yogis boycott of Yankee Stadium until July 18, 1999 when Berra returned to the stadium to witness David Cone's perfect game against the Montreal Expos (a game I attended!!!)  Berra's boycott was fostered by Carmen's anger and reflects her role as a dominating and protective force in their marriage.
All of the traditional aspects of a baseball biography are present in YOGI: A LIFE BEHIND THE MASK, and it is to Pessah 's credit that he has written a study of an important American icon that allows the reader to really get to know the man. Pessah writes with a passion about Berra in part because he was his father's favorite player and would inherit his dad's love of the Yankees. For me, the book was a stroll down memory lane, but it raised my level of understanding what Berra endured at times during his career and how he overcame his shy and quiet nature to become a strong, capable, person and a wonderful family man.  If you have missed baseball because of Covid-19 this book can really help fill the void.