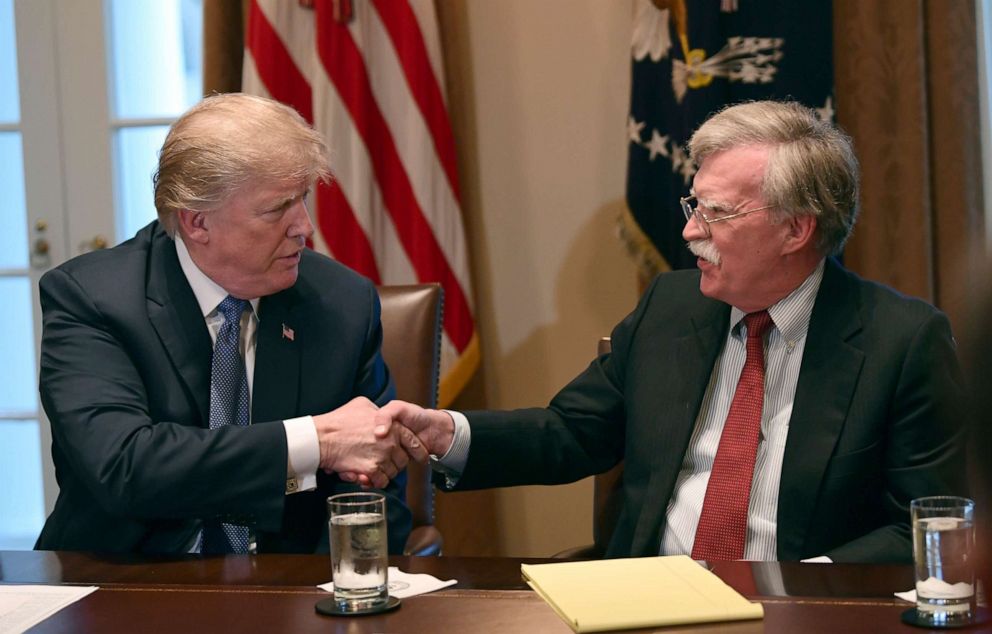 (April 9, 2018, Donald Trump and John Bolton)
In all candor I debated whether to purchase and read John Bolton's new memoir THE ROOM WHERE IT HAPPENED: A WHITE HOUSE MEMOIR.  Apart from stealing the title from a song from the Broadway show "Hamilton" I believe that Bolton's approach is about maximizing his book royalties rather serving democracy, something he claims he has done throughout his years in government service.  By eschewing an appearance before the House Impeachment hearings for his own self-serving interests is rather hypocritical and Bolton showed his true colors.  In the past whether arguing for an invasion of Iraq or other foreign adventures one at least saw a man whose beliefs were clear, in the present instance I wonder except for the fact that his reputation for never finding a war he didn't like remains.  After reading Bolton's somewhat self-serving memoir one gets the feeling that had people listened to him the world and the United States would be in a better place.  This is somewhat arguable as I am trying to evaluate Bolton's book in a measured and objective manner, but it is difficult.
Much of the book is about finding fault with others particularly former Secretary of Defense James Mattis, former Secretary of State Rex Tillerson, Secretary of the Treasury Steven Mnuchin, and former Chief of Staff John Kelly who make up what Bolton refers to as "the axis of adults."  Though much of the criticisms he points to Bolton always seems to emerge correct, with a little side inuendo about his own views, and nasty comments about the agendas and obstructionism of others.  Bolton argues that these men who were supposed to save the country from Donald Trump's most inane actions in reality served him poorly as their approach to reigning him in led to second guessing and conspiracies that undermined what they were trying to accomplish.
After digesting Bolton's 500-page diatribe concerning the Trump administration there is little I disagree with in terms of his insights into the president and his policies or lack of thereof.  There is extraordinarily little that is new and surprising if you have been following the last three and half years closely of a convoluted approach to governing and a lack of honesty and forthrightness.  Bolton is correct in finding Trump's decision making erratic and unconventional seeing activity in the West Wing as that of a "college dorm" and is amusing when he quotes the Eagles song, "Hotel California" to describe personnel decisions as "you can check out anytime you like, but you can never leave."  Bolton's sarcasm and dry humor is ever present in the narrative  and his writing is somewhat "snappy" and noticeably clear.
Bolton rages against bureaucracies particularly the State Department which never seemed to operate quickly enough for the National Security Advisor and "always seemed to be giving things away."  Bolton's reasons for taking the position in the first place knowing what he did about Trump places him as a member of the "axis of adults" particularly in what transpired later under his watch be it the failure of US Venezuelan policy, trying to control Trump as he upended all norms in his approach to Kim Jung Un, failure to impact Russian policy, trade policies regarding China or events in Ukraine.  In every situation and decision Bolton was involved with he would recapitulate his past approaches and knowledge of the issues at hand to reinforce his arguments, i.e., Syrian use of chemical weapons and the American response.  He despises James Mattis who he argues was "looking for an excuse not to do much of anything" and refused to cooperate with any action that might be a deterrent to Bashir al-Assad.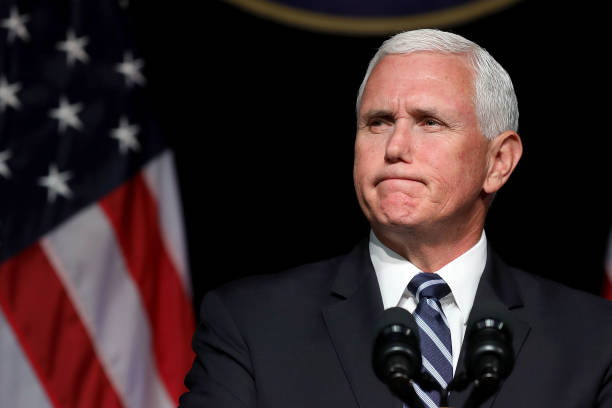 (Vice President Mike Pence)
To his credit, Bolton's openness in describing certain figures is striking.  His commentary is caustic and at times nasty as he goes after South Korean President Moon Ja-in and his "soft" approach to the north.  In referencing Japanese Prime Minister Shinzo Abe, he points out how Abe always feared that Trump "would give away the store" in dealing with Kim.  This is also clear when describing his fears pertaining to the Helsinki Summit with Vladimir Putin as he wrote, "I was not looking forward to leaving him alone in a room with Trump."
When boiling down Bolton's opinion predictably his most virulent commentary focuses on Trump as anything the president seemed to want, summits with Kim, Putin, Turkish President Recip Tayyip Erdogan, or Chinese President Xi Jinping became exercises in damage control.  The media has made it clear over the last three and half years that Trump seems to have this obsession with dictators and government leaders he jealously views as "strong men."  However, as Bolton correctly points out Trump has no understanding of these "strongmen."  They have figured out how to flatter Trump and manipulate him.  In reference to Erdogan, Trump could never quite comprehend that he was a radical Islamist who supported the Moslem Brotherhood, helped finance Hamas and Hezbollah, and was anti-Israel.  But this did not stop Trump from abandoning the Kurds who were our allies in fighting ISIS at the behest of the Turkish president.
Trump was further obsessed with withdrawing American troops from the Middle East and Afghanistan, constantly pointing out that NATO allies were not carrying their own weight, building his border wall and on and on.  If one word is used by Bolton repeatedly to describe the Trump administration it is "dysfunctional," and his commentary just reinforces Trump's lack of fitness for the presidency.  The lies build on other lies producing policy that supported Saudi Arabian Prince Mohammad Bin-Salman who was responsible for the murder of Washington Post reporter Jamal Khashoggi because of a large arms deal with the Saudis which was in the interest of American national security among many examples.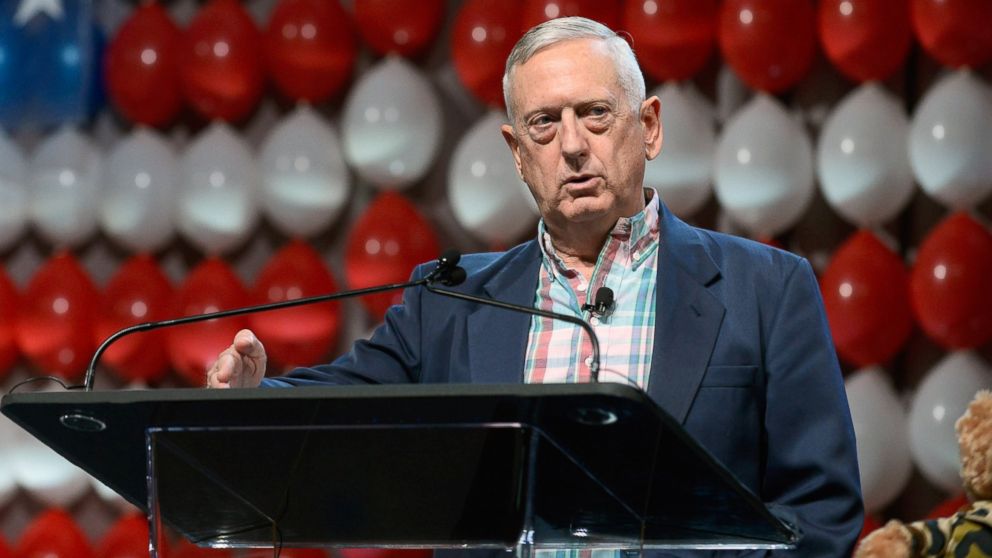 (Former Secretary of Defense James Mattis)
Bolton describes a president flailing about making new threats every day, taking away security clearance away from former CIA head John Brennan, his behavior surrounding the death of John McCain, his handling of immigration-putting children in cages, and of course his total lack of leadership and falsehoods pertaining to the Covid-19 crisis.  But in making these criticisms Bolton seems to never fail to pat himself on the back.  In reference to the Venezuelan crisis he writes, "The regime wonders if the US military threat is credible, but they are most afraid when John Bolton starts tweeting.  Now that was encouraging!"
In reference to trade negotiations with China and other controversial issues over and over Trump would have people argue to try and reach decisions.  Resolution was rare and even worse according to Bolton one day there would be one outcome, then the next day another, and possibly even an hour later Trump would tweet something that would undermine the process.  In reference to Covid-19 Bolton remarks that "the NSC biosecurity team functioned exactly as it was supposed to.  It was the chair behind the Resolute (Trump's desk) that was empty."  Bolton's description comes across as if he were guiding a child prone to tantrums when he did not get his big deal with China etc., but what he was most afraid was that after abandoning the Kurds, Taiwan could be next.  Bolton repeatedly points out Trump's lack of historical knowledge and perspective which led to lectures but more importantly an inability for Trump to engage material based on the past and had rather negative implications for negotiations in the present, as well as developing sound policy.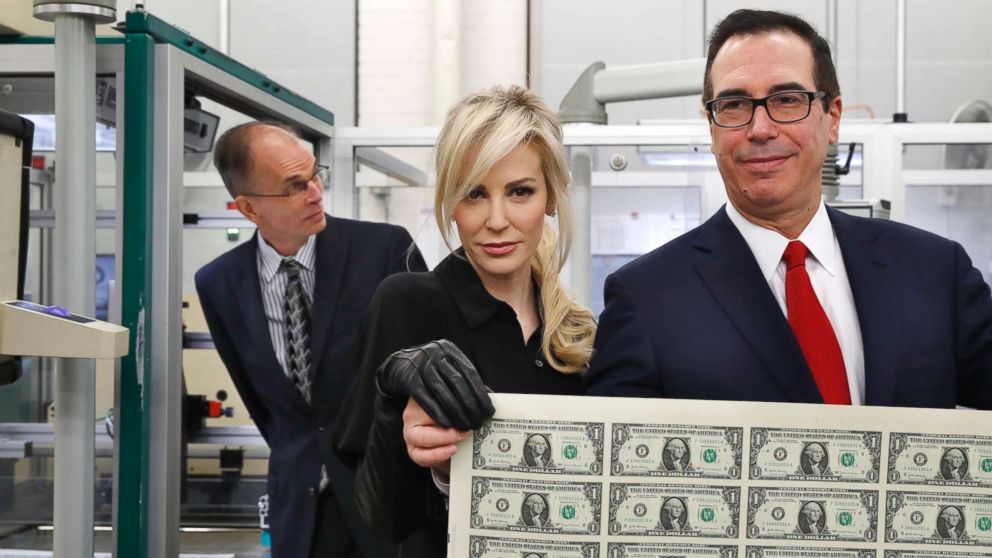 (Secretary of the Treasury Steven Mnuchin and his wife)
It is clear from Trump's own remarks he had no compunction bout asking foreign leaders for help for his reelection in 2020.  Remarkably during negotiations with Xi "he then, stunningly, turned the conversation to the coming US presidential election, alluding to China's economic capability to affect the ongoing campaigns, pleading with Xi to ensure he'd win.  He stressed the importance of farmers and increased Chinese purchases of soybeans and wheat in the electoral outcome."   Further, the reference to a Trump tweet that led to a meeting with Kim at the Korean DMZ Bolton's view is clear in reference to the president, "he couldn't tell the difference between his personal interests and the country's interests."
John F. Kelly, former Chief of Staff
It is interesting that Bolton left the details of the Ukraine debacle to the end of the book hoping to maintain the reader's interest.  His chapter dealing with Ukraine possesses a great deal of detail, but his commentary is somewhat verbose and does not get to the core of the evidence as he hides behind his own bewilderment.  His excuse for not testifying is that it would not have made a difference because Republicans in the Senate would never have voted for impeachment, instead he argues that the House Democratic impeachment leaders committed malpractice and are responsible for their own failure to succeed.  Bolton's rationalization does not hold water as his checkbook seemed to be his only driving force.
In the end Bolton's book is a monument to his own ego.  He has written a book based on the fastidious notes he has taken providing minute and, in many cases, extraneous information that was not necessary.  Bolton does provide some interesting insights and pure gossip, but the book's length and structure leads one to doze at times trying to get through details that were best left on the editor's floor.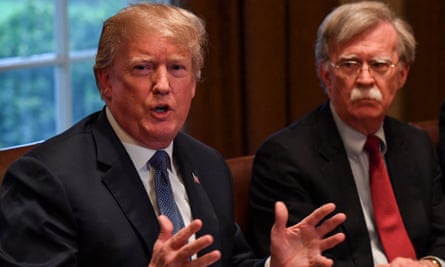 (Donald Trump and John Bolton)