(President John F. Kennedy and Arthur M. Schlesinger)
According to the Merriam-Webster dictionary a "gadfly" is "a person who stimulates or annoys other people especially by persistent criticism."  According to Richard Aldous, in his new biography, SCHLESINGER: THE IMPERIAL HISTORIAN, the definition fits Arthur M. Schlesinger, Jr.'s role as Special Assistant to the President during the Kennedy administration.  Aldous' work is the first full-length biography of Schlesinger and he successfully grapples with a number of questions as his narrative unfolds.  First, was Schlesinger a great and important historian, a model of how academics and public service can mix?  Second,  was he a popularizer and court historian held captive to the establishment that nurtured his career?  After reading Aldous' monograph there is no conclusive answer and elements of each question make up Schlesinger's academic career at Harvard, as well as a speech writer and advisor to President Kennedy.  However, Aldous ably balances his subject's talent as a writer of historical monographs and speeches with a clear acknowledgement of his shortcomings as a political analyst and aide.
My interest in Schlesinger dates back to a debate between Schlesinger and William F. Buckley, the editor of the National Review and the preeminent voice of conservatism during his lifetime.  I was a college senior and witnessed their give and take as I watched how Buckley goaded Schlesinger as the spokesperson for a liberal internationalist foreign policy as well as social engineering.  My memory points to an academic who had difficulty keeping up with Buckley and the scenes described by Aldous in the book provides further evidence as to how Buckley would get under Schlesinger's skin.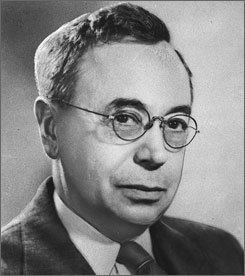 (Arthur M. Schlesinger, Sr.)
Aldous' work describes a young man who was guided by his father, Arthur M. Schlesinger, a Harvard professor and distinguished historian.  Along with his father, Harvard connections would guide Schlesinger through the world of academia as well as other aspects of his life, for example, his work with the Office of Strategic Services (OSS) at the end of the war.  When Schlesinger felt uncomfortable in a position, his Harvard connections and relationships would ease him into a more favorable position.  Aldous explores the evolution of Schlesinger's intellectual and ideological development very carefully honing in on the influence of his father, his attachment to Adlai Stevenson who twice ran unsuccessfully for president, a diverse group of Harvard academics like John Kenneth Galbraith and others, and the lessons learned as he tried to navigate his role in the Kennedy administration where he was seen as part of the liberal establishment in what was really a conservative leaning presidency.
(Kennedy speech writer, Theodore Sorenson)
From the outset we see the young Schlesinger using his father as a role model.  Once he made the decision to attend Harvard and use "Jr." as part of his legal name he was inevitably seem as "the sorcerer's apprentice" in relation to his father.  Schlesinger would achieve early academic success with the publication of ORESTES BROWNSON: A PILGRIMS PROGRESS a book about  a convert who attempted unsuccessfully to liberalize and Americanize the Catholic Church. But the work that placed him on the academic ladder was his AGE OF JACKSON published in 1945 which moved away from Frederick Jackson Turner's "Frontier Thesis" by emphasizing the national character of the western frontier that included urban workers, small farmers, and intellectuals in the Northeast.  Schlesinger would present Jacksonianism as a forerunner of the Progressive Era and the New Deal in attempting to restrain the power of the business community.
Aldous' work is in part an intellectual history as he follows the thesis of a number of important historians who came to the fore in the 1930s who impacted Schlesinger's work.  At the end of World War II, Schlesinger's academic bonafede's would be enhanced with the completion of his seminal work THE VITAL CENTER which defends liberal democracy and a state-regulated market economy against the totalitarianism of communism and fascism.   As Schlesinger has written, "it is the very process of democracy itself, not perfect ends, which forms the bulwark against totalitarianism."  The book that Schlesinger is most noted for is his chronicle of the Kennedy administration, A THOUSAND DAYS which earned him the nickname as the "court historian" for the abbreviated presidency.  As Aldous points out the book was to be a "legacy project" for Jacqueline Kennedy and Robert Kennedy and the book that resulted, completed a year after the assassination, "endures as a masterly portrait of a man that its author believed had been the perfect leader for a nation in the nuclear age and the zenith of its prosperity and global sway."*
Aldous has prepared a thoroughly researched work with many insights into Schlesinger's personal life, academic career, and public role. He introduces numerous stories and individuals that enhance the narrative. His competition with Theodore Sorenson during the Kennedy administration is a case in point as the two men vied for the primary role as the president's speech writer.  Sorenson emerges as somewhat of a control freak who resented Schlesinger and did his best to make him as irrelevant as possible.  Another prominent individual that Schlesinger held in low opinion was Secretary of State Dean Rusk who he viewed as weak, lacking a backbone in debating issues and formulating policy. The publication of the first three volumes of the AGE OF ROOSEVELT which was supposed to run five volumes is a turning point for Schlesinger as he crystalized the war between liberalism and business-dominated conservatism, and ultimately the collapse of faith in business led to the election of Franklin D. Roosevelt.  Aldous effectively dissects the published three volumes which were all published by 1957.
During that time Schlesinger worked to elect Adlai Stevenson as president as one of his major speech writers and advisors.  The relationship between the two men occupies a great deal of the narrative as the Kennedy people eventually saw Stevenson as weak and too liberal.  In fact, Aldous points out that Schlesinger was tasked to control Stevenson's high moral tone during the Cuban Missile Crisis and make sure he was strong enough against the Soviet Union in the United Nations Security Council.  Schlesinger's main problem in the Kennedy administration was his links to Stevenson's presidential runs and the fact that conservatives within the administration saw him as a liberal in the mold of the eastern establishment.  Despite this, Schlesinger developed a good personal and working relationship with Kennedy even though he believed there were too many conservatives and Republicans in the administration.  He did have a great deal of access to Kennedy as the president enjoyed their discussions of history and ideas and wanted to be remembered as a great president and therefore, he thought it was wise to have in attendance a great historian as he saw Schlesinger as having a keen mind who drew parallels between events of the day and past historical events and figures.
During the Kennedy administration Schlesinger fulfilled his role as a gadfly.  As a Special Assistant to the President he had no specific role and tended to delve into areas of interest as well as those assigned to him.  His views on the planning and outcome of the Bay of Pigs fiasco were dead on and Kennedy would ask him to analyze how the CIA and decision-making in general could be reformed or improved.  During the Berlin Crisis he advocated giving Khrushchev an out as not to humiliate him and possibly cause a war. He was involved in the Nuclear Test Ban Treaty debate but was kept to the side except for his role as "keeper of the UN Ambassador" during the Cuban Missile Crisis.  Schlesinger had limited interest in Southeast Asia and opted out on the issue of Vietnam which are an indication of the limitations of his role as special advisor without any particular portfolio.  If there is a weakness in Aldous coverage is his short shrift in discussing the burgeoning Civil Rights movement and the legislation that emanated from the Kennedy administration and other domestic issues that Schlesinger prepared speeches for.  But overall, Schlesinger's role in the administration was impactful and somewhat influential, despite the fact it took him a long time to learn how to navigate the positives and pitfalls of a public career.
It is unfortunate that Aldous rushes through Schlesinger's last four decades, devoting little space to works such as THE IMPERIAL PRESIDENCY, CYCLES IN AMERICAN HISTORY, THE DISUNITING OF AMERICA and his biography of Robert Kennedy.  In doing so "he misses the opportunity to examine how Schlesinger's gradual loss of intellectual influence mirrored the crisis of American liberalism itself."*  Despite this shortcoming, Aldous has written the preeminent biography of a fascinating career.
(Arthur M. Schlesinger, Jr. and President John F. Kennedy)
*Michael Kazin, "A Liberal Historian's Imprint on Mid-Century America," New York Times, November 2, 2017.